Field trials, greenhouse and growth chamber experiments
In our experiments, we evaluate biostimulant products for their effects on plant nutrition, on stress tolerance improvement and product quality enhancement, inorganic and organic fertilizers and soil improvers, nitrification and urease inhibitors, taking into account their environmental quality. The objectives of trials and the experimental protocols are defined with the customer and our personnel who follows the entire process, from site identification and equipment installation, to measurements and results communication.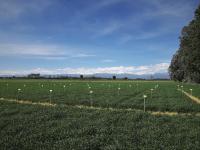 Agri-environmental monitoring and greenhouse gas analysis
We carry out greenhouse gas emission tests in controlled environments, cultivated fields and livestock facilities, and ammonia emission determination in field using acid traps, a sonic anemometer and a software processing. We evaluate the quality of biogas from anaerobic digestion plants: periodic analysis of methane, carbon dioxide, hydrogen sulphide. We offer gas chromatographic analysis.